Overall Engagement Holds Relatively Steady, But 2018 Challenges Rise to the Top; Quantum Workplace Research Reveals Managers Will be the Key to Improving Engagement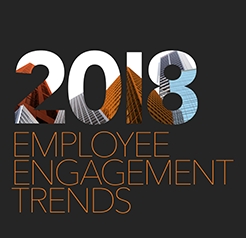 Omaha, NE, March 26, 2018 –(PR.com)– Quantum Workplace, an employee engagement software company dedicated to making work better every day, has released the results of its 2018 Employee Engagement Trends study. Engagement improved slightly between 2016 and 2017, but analysis revealed possible stumbling blocks for the year ahead.
Lack of employee development and insufficient employee recognition, among others, are two 2018 challenges executives and managers need to tackle together. This year, managers were found to be particularly responsible for employee engagement:
· Over the past eight years, there's been an average 10% gap between managers' attempts to provide development for employees and employees' knowledge of development opportunities. In 2017, that gap is the widest it's ever been, at 12%.
· 21% of employees are uncertain about the recognition they would receive if they contributed to their organization. Yet, receiving appropriate recognition is a top 5 driver of employee engagement.
"This year's results demonstrate that unless we leverage local-level managers, it's impossible to improve engagement. As an employee's most direct link to the organization, managers have the ability to create or destroy a workplace that engages their employees," said Greg Harris, CEO of Quantum Workplace.
The annual report offers employers and human resource professionals insights about trends occurring in engagement across industries and demographics. The study analyzed the Best Places to Work survey responses of more than half a million employees from more than 8,700 companies across America. The aggregated data provides a look at overall trends in employee engagement, as well as a detailed look at what influences are most important to different types of employees.
Other highlights of the survey include:
· Government is the least engaged industry at 60.5 percent. Government employees are consistently some of the least engaged employees.
· The item, "My job allows me to utilize my strengths," was the biggest driver of employee engagement.
· After an almost 5 percent increase in engagement from 2016 to 2017, 53.9 percent of employees who identify as another gender are considered engaged. Despite the increase, men and women are still an average of 30% more engaged than employees who identify as another gender.
· Hispanics and Latinos are the most engaged racial group, with Black or African American employees being the least engaged group.
· Though nonprofits still trail behind both privately and publicly owned organizations, the percentage of highly engaged employees at nonprofits increased for the first time since 2014.
"Employee engagement is not static, so what sets this report apart is that it looks at engagement on a macro and a micro scale," said Harris. "Employers can see where their engagement strategies are working, and where there needs to be refinement."
For more information on employee engagement in 2018, visit www.quantumworkplace.com/engagement-trends-2018.
About Quantum Workplace
Quantum Workplace provides an all-in-one employee engagement software that makes managers the central drivers of workplace culture. Serving more than 8,700 organizations, Quantum Workplace's technology gives team leaders direct access to employee feedback and personalized real-time insights, so they can make work better every day. For more information, visit www.quantumworkplace.com.
Contact Information:
Quantum Workplace
Christina Thompson
563-650-2606
Contact via Email
www.quantumworkplace.com
Read the full story here: https://www.pr.com/press-release/748867
Press Release Distributed by PR.com