Exquisite, Monumental Tapestry by Artist Byron Keith Byrd Will be Featured at Art Basel Miami 2017 in Blink Group Projects Exhibit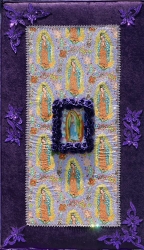 Miami, FL, November 30, 2017 –(PR.com)– When Art Basel Miami (2017) once again covers Miami with the finest Modern and contemporary art by over 4,000 artists exhibited by 200 galleries, one piece in particular will literally glimmer with the spirit of the Christmas season. Acclaimed artist Byron Keith Byrd will debut "The Virgen de Guadalupe," an 86"x54" tapestry, made with just over 27,000, hand applied Swarovski crystals. This exceptional work of art will be part of the Blink Group Projects Exhibit in Booth 315 at Spectrum, located at 1700 NE 2nd Avenue, December 7th through 10th.
Blink Group is a well-established fine arts curator in South Florida and represents hundreds of artists and collectors worldwide. "All of our artists are exceptionally talented; we wouldn't take them on otherwise," says Elizabeth Reyes, Blink Group's founder and curator. "But Byron Keith Byrd is in many ways special, because he works in so many different media in a broad range of subjects and styles. He's a delightful, creative puzzle."
The puzzle of "The Virgen de Guadalupe" is how Byrd managed to hand-apply those 27,000 Swarovski crystals, along with lace and velvet trim, centered with a 3D-hologram of the revered figure. The answer is that he was assisted by a team of friends and fellow artists who meticulously executed his detailed design in pieces that were then quilted together. "It was the hologram that inspired me," says Byrd, who also says the original plan was not for a piece quite so large or ornate. "The more I developed the design, it took on a life of its own. It got bigger and bigger, and I realized that none of the materials I'd used previously would do. It had to be bejeweled, so I chose the world's finest Swarovski crystals. The Virgen is supposed to be a miracle worker; maybe she directed me. Stranger things have happened."
The Virgen de Guadalupe, also known as Our Lady of Guadalupe, is the Catholic title of the Virgin Mary associated with a venerated image enshrined in the Minor Basilica of Our Lady of Guadalupe in Mexico City – the most visited Catholic pilgrimage site in the world. The myriad of legends that surround her began with a mystical sighting by a Mexican farmer in the 1500s – one of those stranger things that has happened.
What isn't strange is that Byrd's "The Virgen de Guadalupe" is part of his ongoing series, Biblical Proportions, a collection of different kinds of art pieces that explore the ramifications of organized religion in modern-day society. "I am fascinated by life, death, and the implications that religion brings to the mix," says Byrd. While some pieces in the series take a definitely confrontational swipe at religion in general and Christianity in particular, Byrd's "Virgen de Guadalupe" was not created with "worship or disrespect," he says. "This interpretation of the Virgin Mary has been a vital part of Mexican history, culture, and faith for centuries," notes Byrd. "That's important. It tells us something meaningful about the role of Catholicism in Mexico from then until now."
Born and raised in north Georgia, Byrd has been painting, drawing, sculpting, and creating distinctive art pieces since his teens. After earning a BA in Fine Art from the University of West Georgia in Carrolton, he moved to New York City and had his debut in a Madison Avenue gallery within a year. He has had numerous solo exhibits and participated in many group shows at major venues in New York and Florida, and his work is featured in several prestigious museums and notable private collections. He has won a number of significant awards and is frequently commissioned for private works. "The Virgen de Guadalupe" will be available for sale during the sprawling Basel art fair, and afterwards, through Blink Group Projects.
Contact Information:
Elizabeth Bryan Studio
Elizabeth Reyes
305-587-4744
Contact via Email
www.blinkgroup.net
Read the full story here: https://www.pr.com/press-release/737748
Press Release Distributed by PR.com